The Official Site of PoconoHotels.com
Pocono Mountains - NE PA We cover over ten Counties.
Poconos/NE PA Resorts, Hotels, Motels, Lodging Guide & Group Tour Planner.




Where to find travel info for the Poconos/Pocono Mountains Region & NE PA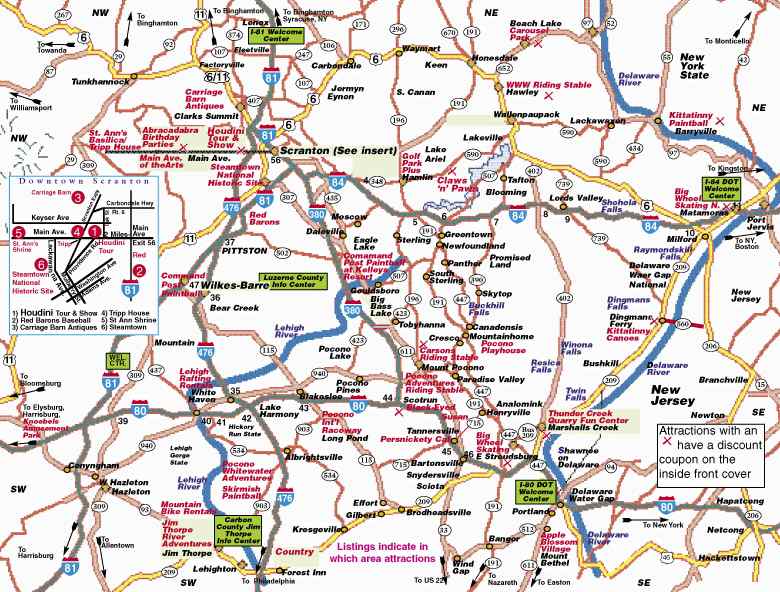 , New!!! We help you make your Poconos - Pocono Mountains NE PA choices.
,
,

Reserve ON-LINE, get maps, information and and if you wish book over
50 of our leading hotels and resorts at a discount NOW right online. CLICK HERE.


Discount Coupons while you are in the area.CLICK HERE.

The four areas you can click to are:
South East
Bushkill | Bushkill Falls | Canadensis | Cresco | Delaware Water Gap | Gouldsboro | Marshalls Creek | Mountainhome | Mt Pocono | Stroudsburg | Tannersville

South West
Dallas | Hazleton | Jim Thorpe | Lake Harmony | White Haven | Wilkes-Barre

North East
Beach Lake | Carbondale | Daleville | Eynon | Hamlin | Lake Ariel | Hawley | Honesdale | Lackawaxen | Lakeville | New Foundland | Wallenpaupack | Waymart | White Mills

North West
Factoryville | Harford | Lenox | Moosic | Pittston | Scranton

Contact us about your lodging needs. We will pass it along. PoconoHotels.com

To reserve full service Poconos and Pocono Mountains RESORTS ON-LINE at dicounts and best current prices click here!

To reserve other Poconos and Pocono Mountains HOTELS ON-LINE at discounts and best current prices click here!

Businesses don't pay to be in this guide. Listing is free of all charges.
To get on this guide free contact our office for info.webmaster@PoconoHotels.com

For brochure distribution in NE PA, color printing/design, Internet design, & hosting world wide, go to Magic USA MagicUSA.com

If there's a problem with this page contact us. Include the page URL & the problem. Thank you.
Volunteers wanted! Need help pages about this subject matter. Contact webmaster
© 1993-2015 by PoconoHotels.com.No part of any of this document may be reproduced in any form, without written permission. The graphics have been retouched,computer enhanced and resized by the authors.